Focused on what matters most: Safety, quality, and efficacy
ADMA has created a robust, sustainable, reproducible, and controlled process for ASCENIV, the only IVIG produced from blending RSV plasma and normal source plasma1*

Sustainable supply of RSV and normal source plasma

Established Lot-to-lot consistency

High-quality impurity profile

End-to-end control of Ig manufacturing functions

Reproducible results

Quality in every vial
We are committed to excellence when producing specialty plasma-derived products designed to safely and effectively treat the immune compromised
ASCENIV—The only IVIG produced from blending RSV plasma with normal source plasma1*
PLASMA COLLECTION & SCREENING
Hyperimmune donors with RSV antibodies are identified using ADMA's proprietary screening technology2,3
Plasma is collected from US FDA-licensed plasma collection centers3
TESTING
Proprietary microneutralization assay quantifies levels of neutralizing antibodies in hyperimmune plasma donor samples2
TAILORED POOLING
ASCENIV is the only IVIG product available that is manufactured using patented methodologies for donor screening and plasma pooling*
Normal source plasma is blended with RSV plasma to produce a tailored plasma pool derived from a minimum of 1,000 unique donors
Provides a broad spectrum of neutralizing IgG antibodies against bacterial and viral pathogens and their toxins4
Meets potency requirements for 21CFR6403
*ADMA BIOLOGICS PATENTS ISSUED 9,107,906 - 9,714,283 - 9,815,886.
FDA=US Food and Drug Administration; IgG=immunoglobulin G.
Inside ASCENIV—efficacy to prevent serious infections4
In a 1-year, prospective, open-label, nonrandomized, multicenter, phase 3 study evaluating the efficacy and safety of ASCENIV in adult and pediatric patients with PI:
Zero
serious acute bacterial infections (SBIs)*
Count on ASCENIV to reduce infection-related quality-of-life impact
Efficacy results (PPPY) in the same 1-year study (secondary endpoints):
Zero
hospitalizations due to infection
One patient from the study group was hospitalized because of a postoperative local wound infection from elective surgery
<1
unscheduled medical visits PPPY
24 out of 59 patients (41%) had a total of 54 unscheduled medical visits due to infections
1.7
missed days of work/school/activity PPPY due to infection
23 patients (39%) had a total of 93 missed days of work/school/activity due to infections out of a total of 21,535 patient days (<0.5%)
32.9
days of antibiotic use PPPY
37 patients (63%) used antibiotics due to infection (includes therapeutic use)
*SBIs were defined as a rate of <1.0 cases of bacterial pneumonia, bacteremia/septicemia, osteomyelitis/septic arthritis, visceral abscess, and bacterial meningitis per person-year.4
PPPY=per patient per year.
Dosing, Administration & Storage
ASCENIV dosing, administration & storage
For adults and adolescents (12 to 17 years of age) with PI4
For intravenous use only
Dose
300 to 800 mg/kg every 3 to 4 weeks*
*Frequency/amount of IgG therapy may vary from patient to patient. The proper amount can be determined by monitoring clinical response.
Initial infusion rate
(for first 15 minutes)
0.5 mg/kg/min
(0.005 mL/kg/min)
Maintenance infusion rate (if tolerated)
Increase gradually every 15 minutes up to 8 mg/kg/min
(0.08 mL/kg/min)
No apparent differences in efficacy or safety between 3- and 4-week dosing4
The dose may be adjusted over time to achieve the desired trough levels and clinical response4
ASCENIV dose adjustments may be required in patients who fail to maintain trough total IgG concentrations of at least 500 mg/dL with a target of 600 mg/dL. Starting with the second infusion, adjust the dose proportionally, targeting a trough of ≥600 mg/dL, based on the previous trough and the associated dose4
ASCENIV is a liquid solution containing 10% IgG (100 mg/mL) for intravenous infusion4
Available in a single-use, non-latex, tamper-evident 5 g/50 mL vial4
Begin with an initial infusion rate of 0.5 mg/kg/min. If there are no adverse reactions, the infusion rate for subsequent infusions can be slowly increased to the maximum rate4
Monitor patient vital signs throughout the infusion. Slow or stop the infusion if adverse reactions occur. If symptoms subside promptly, the infusion may be resumed at a slower rate which is comfortable for the patient4
Ensure that patients with preexisting renal insufficiency are not volume-depleted. For patients judged to be at risk for renal dysfunction or thrombotic events, administer ASCENIV at the minimum infusion rate practicable, and consider discontinuation of administration if renal function deteriorates4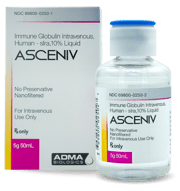 Once vial is entered, use promptly
Store at 2-8 °C (36-46 °F) for up to 36 months from the date of manufacture
Do not freeze
Within the first 24 months of shelf-life, product may be stored up to 4 weeks at ≤25 °C (77 °F). After storage at room temperature product must be used or discarded
ASCENIV

—

a demonstrated safety profile4
The total number of adverse reactions (ARs) was 158 (a rate of 0.20 ARs per infusion)
Fifty-eight subjects (98%) had an adverse reaction during the study. The proportion of subjects who had at least one adverse reaction was similar for both the 3- and 4-week cycles. The most common adverse reactions observed in this clinical trial were headache (22 subjects, 37%), sinusitis (16 subjects, 27%), diarrhea (14 subjects, 23%), gastroenteritis viral (13 subjects, 22%), nasopharyngitis (13 subjects, 22%), upper respiratory tract infection (13 subjects, 22%), bronchitis (12 subjects, 20%), nausea (12 subjects, 20%), and acute sinusitis (11 subjects, 19%)
No study drug–related serious adverse events (SAEs) were reported, although 2 SAEs (postoperative wound infection and migraine) were documented1
Adverse reactions (within 72 hours after the end of an ASCENIV infusion) in ≥5% of subjects
Adverse Reactions

Number (%) of Subjects

(N=59)

Number (%) of Infusions

(N=793)

Headache

14 (24)

21 (2.6)

Sinusitis

6 (10)

7 (0.9)

Nausea

5 (9)

5 (0.6)

Acute sinusitis

4 (7)

4 (0.5)

Fatigue

4 (7)

9 (1.1)

Muscle spasms

4 (7)

4 (0.5)

Bronchitis

3 (5)

3 (0.4)

Diarrhea

3 (5)

3 (0.4)

Nose bleed

3 (5)

4 (0.5)

Muscle pain

3 (5)

5 (0.6)

Oropharyngeal pain

3 (5)

3 (0.4)

Pain in extremity

3 (5)

3 (0.4)

Itching

3 (5)

3 (0.4)
ASCENIV is a liquid solution containing 10% IgG (100 mg/mL) for intravenous infusion1
The broad spectrum of neutralizing IgG antibodies against bacterial and viral pathogens and their toxins helps to avoid recurrent serious opportunistic infections
Purified, sterile, ready-to-use preparation
Clear to opalescent liquid (colorless to pale yellow)
Normal IgG subclass distribution
Formulated in water for injection containing 0.100 M-0.140 M sodium chloride, 0.20 M-0.29 M glycine, 0.15%-0.25% polysorbate 80, and pH 4.0-4.6. Contains no sucrose
Contains ≤200 μg/mL of immunoglobulin A
Mean half-life of ASCENIV:
– 28.5 ± 4.4 days for patients on a 3-week dosing regimen
– 39.7 ± 11.6 days for patients on a 4-week dosing regimen
The only IGIV available that is manufactured using ADMA Biologics' patented methodologies for donor screening and plasma pooling.*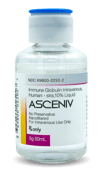 Size of vial not to scale.
Available in a single-use, non-latex, tamper-evident 5 g/50 mL vial.